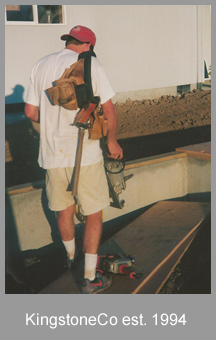 With 15 years of experience, The owner has provided the highest quality of home building to the construction industry. He started his home building career at the age of 18, straight from High School. He became licensed and bonded by the Construction Contractors Board as a framing contractor in the State of Oregon. After 10 years of hands on home building in the Portland and Bend Oregon area He decided to take an opportunity to pursue his dream of a formal education. His studies took him back to school at PSU/PCC working toward a degree as an Architectual Designer.
At The Kingstone Company, all of our designs are done with the latest computer aided (CAD) and 3D design technology. The staff of Building Designers at The Kingstone Company have both expertise in construction and design, giving the client the assurance that their new building will be designed with the knowledge of the latest construction materials and methods, while also providing a well "thought out" traffic pattern proportionate with each floor plan and capable of designing exciting and trendy traditional building facades.
The Kingstone Company's main focal point is on personalized customer service. We always place the clients wants and needs first and last, while designing together their thoughts and ideas into a workable set of floor plans and a pleasing exterior style. We work hard to keep tabs on budget restraints along with the structural aspects and building code requirements. We want our Clients to always leave with their completed architectural plans in an upbeat and excited mood, in anticipation of their project ahead.